At least one political forecaster is calling Republican stronghold Texas a "toss-up" state, removing its historic allegiance to the GOP.
270 To Win, a comprehensive site that relies on aggregate polling for its forecasts, kept the state in tan (Toss Up) status in its October 20 update.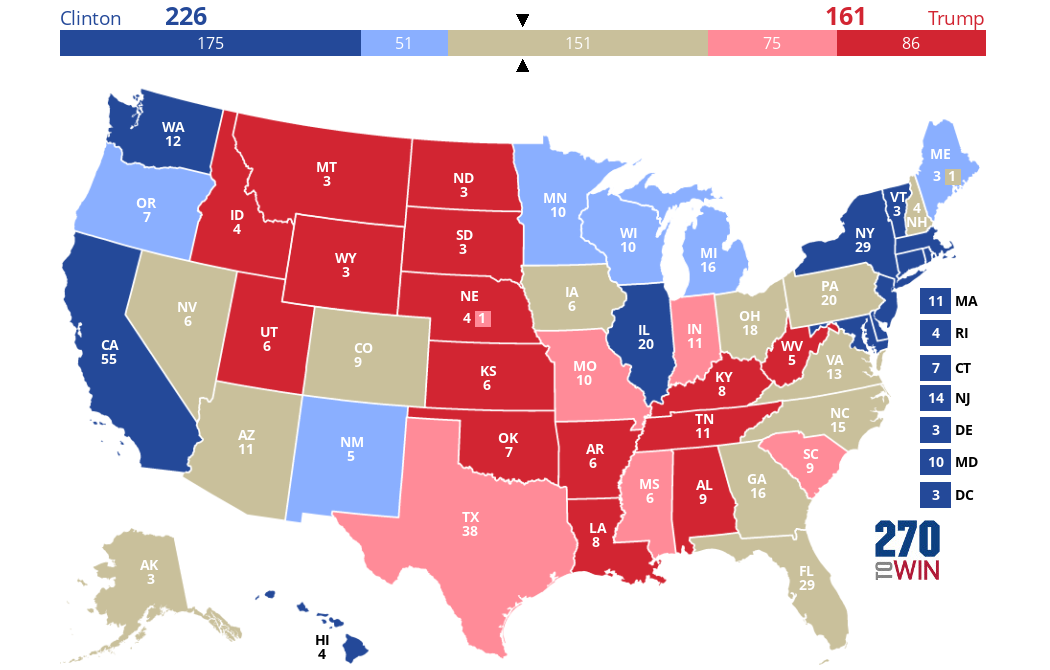 Click the map to create your own at
270toWin.com
The prediction is based on statewide polling results of five points or less between Hillary Clinton and Donald Trump, the major party contenders for the presidency.
The last time the Lone Star State polled a solid red was in August after the primary season. Just a week ago, Texas was leaning Republican after polling as an either/or state throughout the month of September.
Poll data influencing this iffy status give Trump a narrow lead of just 2 to 4 points.
SURVEY USA 10/13/2016: Trump 47% – Clinton 43%
WASHINGTON POST/SURVEY MONKEY 10/18/2016: Trump 48% – Clinton 46%
UNIVERSITY OF HOUSTON 10/18/2016: Trump 41% – Clinton 38%
Trump's single digit lead bears statistical significance. No Republican presidential candidate has failed to carry Texas by less than 11 percent points since 2000.
Interestingly, respondents of the Univ of Houston poll do not expect Trump to win. A full 53% of all those polled believe Clinton will be the next President. Only 42% of registered Republicans think their nominee will win the general election.